From February to April, I was working evenings and weekends fulfilling a dream I've had for many decades: writing a book about a subject I really care about: game development. On June 22 2009, Apress is publishing a book I collaborated on as lead author and tech reviewer : iPhone Games Projects.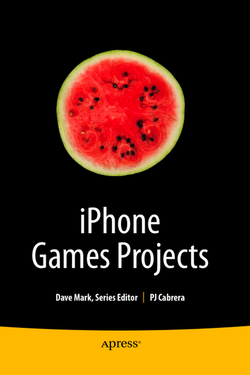 There are chapters by :
Olivier Hennessy & Clayton Kane, of Posimotion, developers of Bikini Hunt and Apache Lander
Joachim Bondo, of Cocoa Stuff; developer of Deep Green, a beautiful chess game for iPhone
Richard Zito & Matthew Aitken, of Swipe Interactive, developers of QuickDraw and Pole2Pole
Aaron Fothergill, of Strange Flavour, developer of Flick Sport Fishing, one of the top 20 best selling apps on the App Store
Brian Greenstone, of Pangea Software, developer of Enigmo and Cro-Mag Rally, two of the top 5 best selling apps on the App Store
Mike Kasprzak, of Sykhronics Entertainment; his game Smiles was one of the finalists for Best Mobile Game on the IGF Mobile 2009 competition
Mike Lee, co-founder of Tapulous, now at Apple, lead developer of Tap Tap Revenge, the most downloaded game on the history of the App Store
And a bonus free chapter by Jamie Gotch, of Subatomic Studios, developers of Fieldrunners, winner of Best Mobile Game on the IGF Mobile 2009 competition
As tech reviewer for the book, I checked everyone's writing for technical accuracy. That was really a great experience. I learned a lot and had fun running everyone's sample code and checking their tips and tricks for myself.
I also wrote one chapter for the book, on how to implement RESTful web services for high score leaderboards and achievements on iPhone. There's code in the chapter for a simple Rails web service, and native code for the iPhone as well. It's a rather deep look at the subject.
I also collaborated with Jamie Gotch on a bonus free chapter. In the chapter we discussed getting started with programming for iPhone, a few tips and tricks, and the A* path finding algorithm. I also developed a Puyo clone and explained the most important parts of the code.
Full source code for the Puyo game will be provided. There is also source code for 3 other sample apps. All the sample code will be made available the same day as the book release at the book's support page and at apress.com
This was a very neat experience for me. I've wanted to have my name on a computer book, and I've enjoyed programming games in my spare time, since before I was a teenager (more than 30 years ago, yo! Where has time gone?)
The iPhone gives me, and everyone with the interest, a chance to develop games for others, in a very cool platform with lots of traction. This book, coupled with Beginning iPhone Development, can give you the tools to reach for the stars with your own creations! Enjoy!